AN OPEN AIR MARKET FEATURING LOCAL ARTISTS AND LIVE PAINTING!
June 24 | 10am-6pm | River Mill Park
Sponsored by Hear Well Be Well


This new event consists of a day-long art market featuring local artists along with live outdoor painting and music. A maximum of 20 local vendors will display and sell their art throughout the park. The market also marks the return of the popular En Plein Air painting event. The event originally run by Kelly Holinshead of the Shutterbug Gallery, invites artists and area dignitaries to grab an easel and some paint before choosing an outdoor location downtown to inspire their creations. A few hours later, participants have to put down their brushes. The paintings are then given a bit of drying time before they are auctioned off to the public at 4pm, with proceeds going towards the Kareen Burn Visual Arts Scholarship supporting a local student studying visual arts related studies in a post secondary institution or program.
PARTICIPATING ARTISTS:
Janine Marson – True Colours Art & Design – Painting
Kristen Murray – Pearl & Sparrow Jewellery – Jewellery
Allen Markle – Catajen Boxes and Boards – Wood
Jeanette Hay – Muskoka Art Rocks – Painting
Danielle Loshaw – Painting
Brenda Turnour  – Painting
Sharon McKenzie – Painting
Jacqueline Hope Raynor – Encaustic Painting
Catherine Luce – Mystical Woods Studio – Painting, Cards, Prints, Home Decor
Lauren Todd – Photography
Jen Vander Doelen – Furniture & Home Décor
JF Kuehnen – Malpractice Press – Painting
Elise Muller – Stone Tree Studio – Sculpture/Printmaking/Jewellery
Helena Renwick – Painting
Wendy Cho – Once Upon a Design
Tom Clark – Painting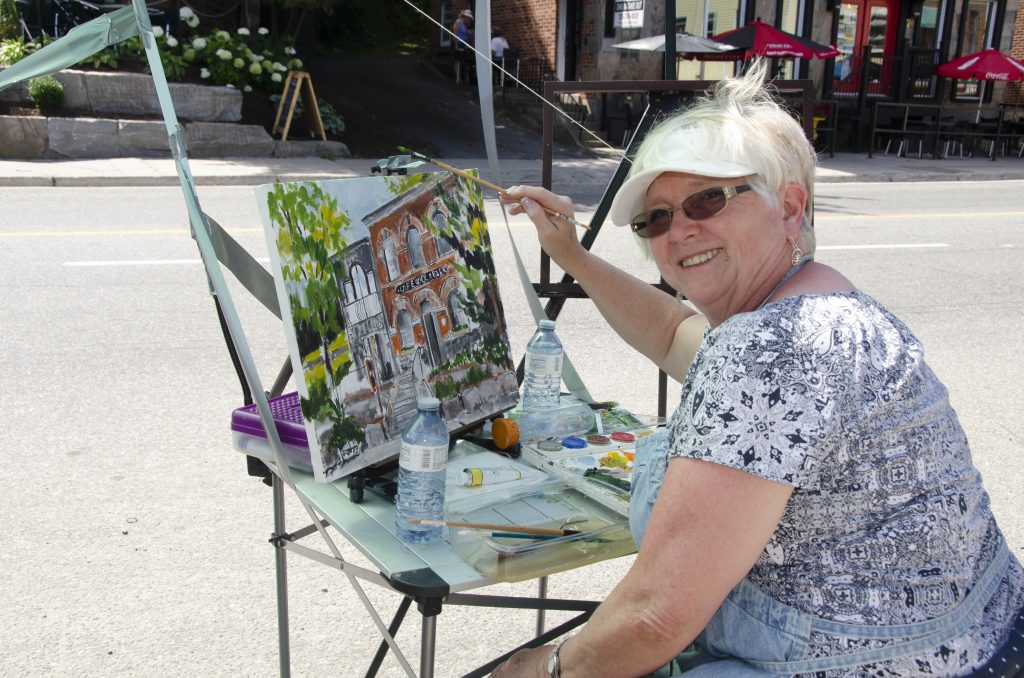 Event Info:
June 24
10am-6pm
River Mill Park